How Real Estate Investors Can Set Up a Safety-Conscious Home Office for Meetings During the Pandemic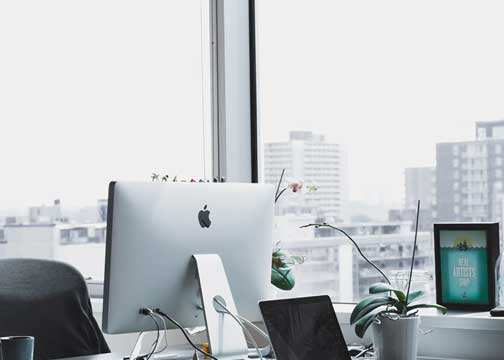 Since the pandemic is still a concern for many, real estate investors are increasingly embracing safety-conscious designs for their home offices. If you want to do the same, here are some tips.
Core Safety Best Practices for Meetings
There are several critical best practices that all real estate investors should use for in-person meetings. Some of the biggest include:
Each of those can help slow the spread of COVID-19. As a result, they are great places to start if you want to ensure your home office is safe.
Additionally, use technologies that help minimize contact. For instance, payment and invoicing software eliminate the need to hand over paper bills or handle credit cards, reducing the amount of contact.
Choosing the Right Home Office Space
When you get ready to set up a safety-conscious home office for meetings, you need to select the right space. Ideally, you want to use a room with a door you can shut. That way, you can minimize noise and distractions and create a level of privacy.
If selling your home is something you're considering, building a separate home office space could work in your favor in today's work-from-home environment when Home Offices are in high demand. Make sure you track the improvements and take before and after pictures. That way, you can use the information to get the best sale price.
Setting Up Your Home Office for Client Visits
When it comes to the layout of your home office, you can be safety-conscious by positioning furniture in a way that supports social distancing. For example, make sure that the seat your visitor will use is at least six feet away from yours and position a coffee table in between to ensure they don't scoot up. For rectangular meeting tables, place chairs at the far ends. That way, you're spaced further apart.
If you need an excellent option for seating, repairing a damaged chair or couch you already own could be a great option. By using a furniture upholstery service, you could potentially get a couch fixed up for between $1,200 and $3,500. Since the exact cost varies depending on the fabric choice, size, and other factors, you'll want to get quotes. However, search online for "chair reupholstery near me" and make sure you read online reviews before reaching out to discuss your needs. That way, you can focus on reputable companies. Of course, buying brand new furniture for your Home Office is always a great option as well!
Lastly, try your best to keep clutter and messiness under control. You never want your clients to visit an office that is disorganized. For example, if you have a lot of paperwork that's taking up space in your home office, consider digitizing those documents so you can easily access them on your computer. You can even use free apps to compress PDF files into smaller sizes; that way, you won't have to worry about lots of large files clogging up your PC.
Preparing for Video Conferences and Virtual Visits
Since virtual meetings are safer than in-person ones, setting up your home office for web conferencing is a smart move. Make sure that you have a neutral background in a camera-friendly color, like light blue or beige.
Consider buying a ring light to illuminate yourself evenly, and consider using task lighting or opening your curtains to introduce more natural light into the room.
Investing in a high-quality microphone will help to ensure that you can be understood in your meetings.
Additionally, practice making eye contact with the camera – not the screen – to mimic eye contact with your client.
Bonus Tip: Protecting Your Assets
Finding ways to protect personal assets is crucial for everyone operating a business. For example, if you haven't already done so, give yourself some extra protection by shifting your business structure from a sole proprietorship to an LLC.
With an LLC, you reduce your liability, safeguarding your assets from a range of potential issues. Plus, filing is surprisingly simple. While you do need to research local formation laws – as the rules do vary by state – in many cases, you can skip the hefty legal fees and either file yourself or use a formation company instead. With that approach, you can accomplish the same goal at a lower cost, making it a great option for budget-conscious real estate investors.
Author: Cherie Mclaughlin